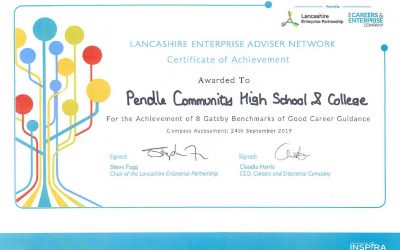 The Gatsby Benchmarks are a framework of 8 guidelines that define the best careers provision in schools and colleges. Back in July we reported that PCHS&C had received a certificate for achieving 7 / 8 of the National Benchmarks. The national careers strategy is...
read more
UPCOMING EVENTS
Apr
2
Thu
Parent Forum Meeting
Apr 2 @ 6:00 pm – 8:00 pm
Proposed date for parent-carer social event
Jun
19
Fri
Parent Forum Meeting
Jun 19 @ 12:30 pm – 1:30 pm
Pendle Community High School & College
Pendle Vale Campus, Oxford Road, Nelson, Lancashire, BB9 8LF
Tel: 01282 682260
Receptionist: Chelsea Watson
E-mail: reception@pchs.lancs.sch.uk
Chair of Governors: Trevor Ashton (Address c/o above)
Paper copies of the information on our website can be requested via email.