Latest News:
PLEASE NOTE – any concerns can be submitted via the WHISPER button; they must contain your contact details so that the senior leadership team are able to follow up any concerns.
PCHS&C are OUTSTANDING in all areas – Ofsted 2017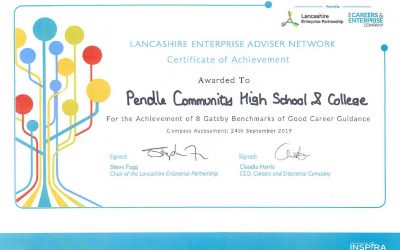 The Gatsby Benchmarks are a framework of 8 guidelines that define the best careers provision in schools and colleges. Back in July we reported that PCHS&C had received a certificate for achieving 7 / 8 of the National Benchmarks. The national careers strategy is...
read more
UPCOMING EVENTS
There are no upcoming events to display at this time.
Pendle Community High School & College
Pendle Vale Campus, Oxford Road, Nelson, Lancashire, BB9 8LF
Tel: 01282 682260
Receptionist: Chelsea Watson
E-mail: reception@pchs.lancs.sch.uk
Chair of Governors: Trevor Ashton (Address c/o above)
Paper copies of the information on our website can be requested via email.